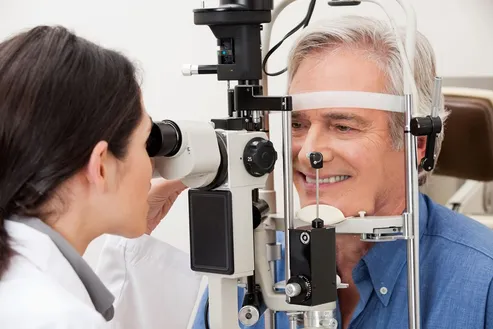 Using Vision Testing to Protect Your Vision
Prevention is important when it comes to eyesight protection. Vision testing is simple, easy to do, takes little time, and can help prevent so many serious problems with what can be caught early. Additionally, vision testing does much more than just spot eye issues. With the right practitioner, vision testing can also identify other serious heart issues such as potential heart disease, diabetes onset and more. We at H. Arnold Papernick OD serving Mt Pleasant, PA, know a lot about vision testing.
A Simple Procedure
Standard vision testing involves the patient sitting some distance from a chart, and then he or she is asked to read off the letters on a specific row covering one eye, and then alternating. This is generally known as a basic function and capability test. Depending on the results, our eye doctor then decides on how to go further if serious vision issues are apparent. We will also take photos of the retina to get an in-depth view of the interior of the patient's eyes.
Regular Exams
Regular vision testing is highly recommended. Many vision problems tend to be progressive. This means they get worse over time without any attention to them. However, conditions can also be addressed both in terms of reversing them or stopping the progression from getting worse if they are caught early. When it comes to vision, we don't really understand what is lost until our vision goes, so preventing the loss in the first place is important.
Get Vision-Tested with Our Optometrist
Vision testing is easy, doesn't take much time, and can be had at your optometrist with a simple appointment. At H. Arnold Papernick OD our specialist team can help. We provide patients with easy access to optometrist expertise as well as convenient vision exams in Mt Pleasant, PA. Schedule an appointment, and we can get you started. Call our eye doctor office at (724) 547-5711. We are here to offer vision testing and other optometry services to our patients.