Eyeglasses From Our Eye Doctor in Mt. Pleasant, PA
At H. Arnold Papernick OD, our eye doctor in Mt Pleasant, PA considers your eye and vision health a top priority. In addition to offering a variety of eye care services right here in our office, we also boast a wide selection of optical products, including prescription eyeglasses. Whether you're wanting a new pair of glasses to update your style or are in need of a new pair because your vision prescription has changed, we've got the selection you need at competitive prices.
Square
A square face is often characterized by a strong jaw line, a broad forehead, and a wide chin and cheekbones. The width and length of the face are close to being equal. Frames should be selected to make the face look longer and to soften the square angles of the face. Choose frames that are slightly curved (like an oval shape) and that have more horizontal than vertical real estate.
Oval
The oval face is identifiable by its balanced proportions. The forehead is slightly wider than the chin and cheekbones are high. Frames should complement the natural proportions of the oval. Choose frames that are wide or wider than the broadest part of the face and that follow your brow line. Often, diamond or rectangular shapes work best for oval shapes.
Oblong
Although fairly similar to an oval shape, an oblong face is longer than it is wide. The ideal frames will shorten the face by creating a break in the length of the face. Choose frames that have depth and a low bridge to shorten the nose. Try frames that are round, deep, have low-triangle shapes, or that have strong vertical lines.
Round
A round or full face is characterized by having the same width and length. For round faces, frames that add length to the face often work best. Frames that lengthen the face are typically angular, narrow and are wider than they are deep. It is best to avoid round style frames as these will exaggerate the roundness and curves of the face.
Heart
A heart shaped face looks like a heart or a triangle with the point facing down. The forehead is very wide and cheekbones are high while the face narrows towards the chin. Counterbalance the narrow chin by choosing frames that are wider at the bottom. Generally, light colored and rimless frames work best, although aviator, butterfly and low-triangle styles also work well.
Triangle
A base-down triangle face has a narrower forehead with full cheeks and a broad chin. To offset a broad chin, select frames that widen at the top. Great selections include frames that have heavy color accents and detail on the top part of the frames. Cat-eye shapes also work well to add width and emphasize the narrow upper part of the face.
Diamond
A diamond shaped face is often characterized by high, dramatic cheekbones with a narrow eye line and jaw line. This shape is the rarest of all the shapes. Oval frames that are soft in style typically work best to highlight the eyes and cheekbones. Select frames that have detailing, distinctive brow lines, are rimless or a cat-eye shape for best results.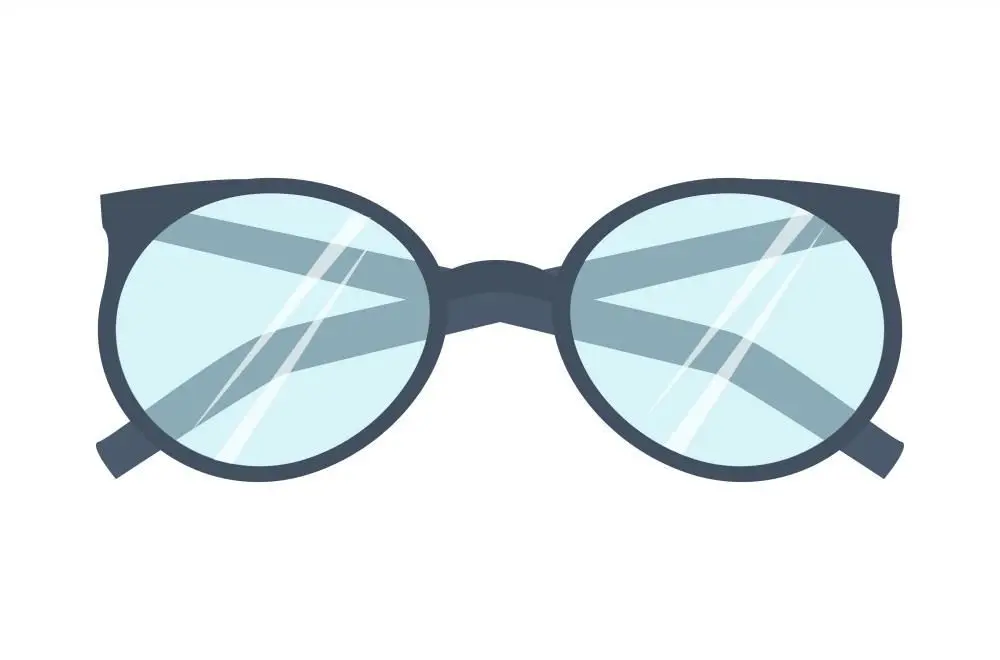 Choosing Frames to Suit Your Lifestyle
While shopping for new eyeglass frames, it's important to consider your lifestyle. This is especially true when it comes to the material from which the frames are constructed. For example, if you lead a very active lifestyle or work in a physically demanding job, then you'll want to shop the most durable frame options, such as titanium. Plastic glasses are nice and lightweight, but they can be more prone to breakage if you're not careful.
For those with allergies to certain types of frame material, it may also be worth looking at PVC frames, which (like titanium) are hypoallergenic.
Not sure which frame material is best for your lifestyle? Our optical team would be happy to make some recommendations for you!
Selecting Frames Based on Your Face Shape
Another consideration while shopping for new frames should be your face shape. After all, the same styles aren't flattering on everyone. Typically, the best piece of advice to keep in mind while shopping for new frames is to pick frames that complement your face shape. This means if you have a round, oval, or oblong face, frames with sharper angles (as opposed to rounded frames) are most likely to look best on you. On the other hand, those with more angled features to their faces (such as those with square or diamond-shaped faces) are more likely to look great in rounded frames.
If you have a heart-shaped face, you're in luck; people with this face shape tend to look great in just about any shape or style frame they put on!
Our Optical Team is Here to Help
We understand that your eyeglass frame choice is important; after all, glasses say a lot about your style and personality! That's why our experienced and knowledgeable optical team is always happy to help if you need advice or recommendations along the way. Whether you're wondering which frame style will best complement your face shape or which type of frame material is best for your lifestyle, we're here to assist you.
Schedule an Eye Exam With Our Eye Doctor in Mt Pleasant!
If it's been more than a year since your last eye and vision exam, don't forget to schedule one with our eye doctor in Mt Pleasant before you order your new glasses? You can reach our office at (724) 547-5711 to schedule your exam or any other eye care service.